2018 Projects
I have two exciting projects that I've already started and am excited to continue this year. Here's a video about my rough plan for the year.
Tutoring at Children's Home
One is tutoring the kids who are struggling in school, who live at the children's home. I'm starting with the kids who are actually schooled at the children's home, which is 2 levels of preschool and kindergarten. The kids never get any one on one time educationally, so if they fall behind, they're screwed. And really the classes are really bad. In 2017 I had been helping the kids with colors, letters, numbers and reading in an informal way. Now I'm actually taking the kids, one at a time, to a separate room so we can actually work on learning what the individual kid needs to learn.
Business Assistance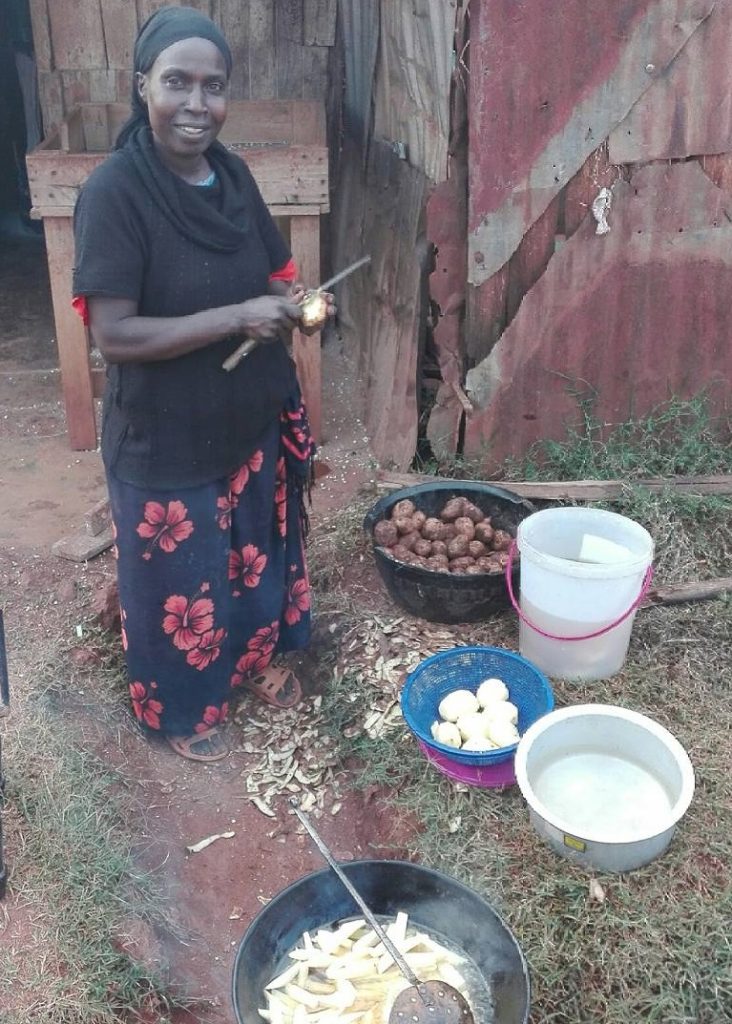 The other project is helping a woman, Linet (shown in picture) with her french fry or "chip" business. She is one of my best friends, a 45-year old widow with 4 kids who really struggles to make sure the kids are fed and educated. She also makes the BEST french fries (but in Kenya we call them chips, so I'm going to keep calling them chips) that I've probably ever had. She made them for about 4 months last year but some problems arose, that were totally out of her control and basically shut down the business. Not only do I want to help this amazing woman who I love, I want those chips to make it out into the world! So I'm helping her with some of the start up costs and teaching her about price checking and doing calculations to really see how much profit she's making. I'm also planning to make her a sign that says "Jogoo's Best Chips". (Jogoo is our neighborhood.) There are many little road side stands, but basically none of them have signs. And she's going to have an awesome one. Both Linet and I are excited to see where this goes. Once I get my bearings I'm interested to try to help more women (or people) with their businesses, but I want to start small since I'm still learning.
Continuing to Study Poverty Alleviation
I'm continuing with my online classes and book reading and Swahili studying. I'm finishing up my Subsistence Marketplaces class by the end of February. Subsistence Marketplaces is the 4th free, online class I've taken through Coursera. I feel so lucky to have the chance to take these classes and to have the access to the internet to take them! Once Subsistence Marketplaces is over, I'm going to try some new classes through Alison.com. Two subjects that Alison has courses that I have my eyes on right now are on communication and on children's development. I also have a bunch of books that I'm planning to read this year too. I'm currently finishing African Friends and Money Matters by David Maranz and When Helping Hurts by Steve Corbett and Brian Fikkert. I've started two more: 9 Things You Simply Must Do by Henry Cloud and Spiritual Survival Handbook for Cross-Cultural Workers by Robert S. Miller. My goal is to pump a lot more hours into all my projects including book reading and class taking.
Preaching and More
I'll still be running at least one bible study at the church. And preaching! I gave my first sermon this past Sunday. It was about praising and thanking God, instead of and/or before we ask him for what we want/need. It felt really good and I look forward to continuing to preach in my church, but also other churches in our area who belong to our same diocese. I'm also going to be helping the church out in the office with many different things.
Family Planning Education?
Family Planning is a big issue here. Babies are getting made left and right. Born into poverty, born into domestic violence or drunken homes, then often dumped off at the Children's Home or even on the side of road. A man from my diocese (that's like a group of sister churches,) is very passionate about family planning and safe sex and has many ministries with local high schools where he teaches them about these things. I'm very excited to see what he's doing and probably get involved. I'll be very happy to teach how babies are made and not made and just how to have better respect for your body and your life and the life of a potential child. I was very distraught to find out that condom use in Kenya is not so common, despite a very high AIDS/HIV rate. I've also been very distraught at the common acceptance of infidelity (men are pretty much expected to cheat, but women of course aren't allowed to). Prostitution is very common, especially among high school and college aged girls. The message around Kenya is, you won't die from AIDS, due to treatment, FREE treatment, thanks to the Western countries. So they aren't afraid of it, so they don't use condoms and don't get tested and just sleep around. Dang. This about drives me insane. Another sad fact on this matter, is women don't feel that they have the power to say "no". Their drunk husband comes home, throws himself upon her, she gets pregnant, maybe it's their 5th kid and they couldn't support the first 4. Maybe even the wife was supporting the family and the husband is just a drunk which is SOOOO common here. Anyways, I am passionate about that so I really look forward to possibly partnering up with this guy's ministries in the high schools.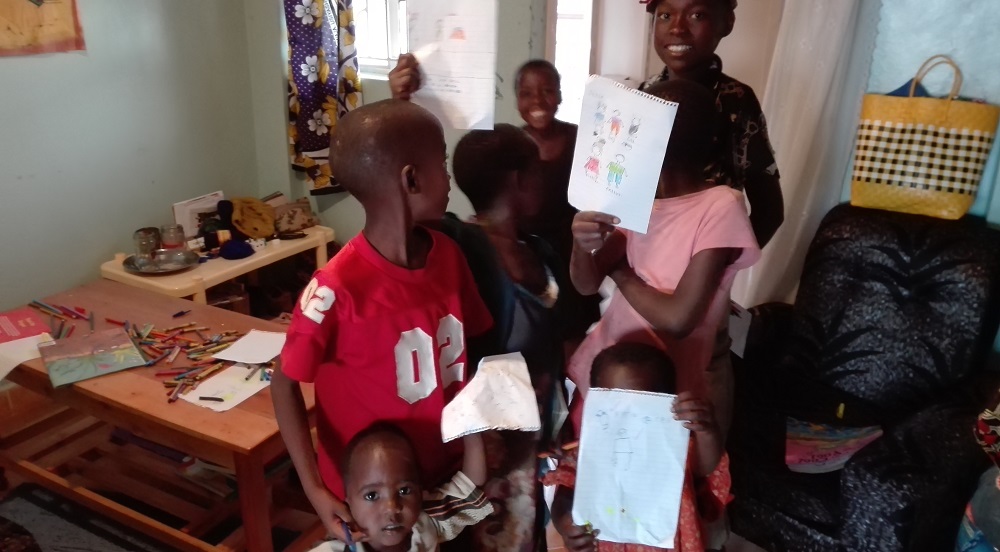 Above is a picture of my neighbor kids enjoying some reading and drawing time in my apartment. I had several pics from this day, but this is one my favorites because of Dama's big smile as she came in and found us with the camera.
Fundraising 2018
It's time for me to start trying to get some more funds! The funds help me survive, to stay in this country, to help these people. I'm also able to use the money to directly help the kids at the children's home or poor people that come into my life. Not only that, but almost all the money I'm using adds to the Kenyan economy and helps support jobs. Below is a picture of my neighborhood. I buy most of my fruits, vegetables and eggs from stands on this street.
I totally updated my website: https://lauriegoestoafrica.com/.
You can learn more about giving here: https://lauriegoestoafrica.com/assistme/.
But if you don't like "clicking" so much, here are the best options for helping me and the people I'm working with:
PayPal
You can send me money directly through PayPal, https://www.paypal.me/LScharp.
Check
You can send a check to my dear mom in Lincoln, Nebraska and she can deposit it for me. Contact me here and tell me you want the address for that.
GoFundMe
My GoFundMe Account, found here: https://www.gofundme.com/lauriegoestoafrica2018.
I can't say how appreciative I am of everyone who sponsors and/or prays for me. It is thanks to you that I can continue this work. It's crossed my mind to think what happens if the money runs out, and what would I do. But I chose to have faith and keep going, knowing that God will support me in some way.
Prayer Team
If you'd like to pray for me and the people I'm working with, sign up here: https://lauriegoestoafrica.com/prayer-team/. Prayer has helped me and the people I'm working with so much. When me or some of the people I've been working with are struggling with serious things, like spiritual battles, family illness, harassment, financial despair: these prayers have really blessed us. When my friends are struggling in big ways, I tell them I'm sending out a prayer request and for them to let me know the results. The results are almost always MIRACULOUS. I think this provides such an amazing testimony to God's power.
If you made it this far, thank you SOOO much for reading. Please feel free to reach out to me too! If you have any questions or comments or just want to chat, I'd love that.