Yesterday we went swimming in the strong undertow of the West Coast of Africa, AKA the East Shore of the Atlantic. The water was warm and it was such a blast. A beautiful deserted beach, under a palm canopy. It was incredible. Such a peaceful setting. I would not recommend the rough tide to an insecure swimmer but to those confident in the water and/or ocean, it is very doable and encouraged by me. We all had a blast. Lots of sand in our suits. I'm sure glad at the last minute I switched my swimsuit bottoms when I was packing. My green bottoms would not have been compatible with these waves.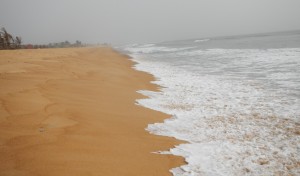 You can see the strong undertow in the pics and the way the beach gets shaped by those strong and sharp waves.
We also went shopping in downtown Monrovia. I got a dress that I'm a big "fan" of (the fabric has fans on it, get it?). I was thinking the fans would keep me cool. It was too big so she brought it in for me, right in front of me, in about 5 min. I didn't get a good pic of me in the full thing. She took too much in and it's just a tad snug (especially when I'm sweaty. 5 pounds less and it will be perfect and this lifestyle should get me there fast.
Our hired driver for the day almost got arrested for not having a driver's license but Bruce, one of the guys on the trip worked Godly magic and next thing I knew we were back in the SUV and driving away, license or no. So that's awesome. Apparently to get a driver's license here, you just fill out a form and pay some money. No test at all. And it shows with the traffic! It's about like RI driving. 😉 Seriously though, it kind of is.